Having two beautiful toddlers and a stay at home wife, I have no choice but to be frugal with how I spend my money. Then there comes into play the low cost airline Spirit  Air which offers budget conscious travel options. However, I am not one to  jump into the low cost options, sometimes you get what you pay for. I have heard horror stories about rate hikes at the gate due to being 1/2 an inch over the baggage bin box on a personal item and its not technically a "carry on". Therefore, being on a budget it was important for me to stay on track and not get hit with a rate hike while flying Spirit Air for an all guys trip to Las Vegas. No way! was I getting up-charged by hidden fees.
For Travel April 4, 2017 & Beyond:
Personal item (e.g., purse, small backpack, etc.): Dimensions must not exceed 18 x 14 x 8 inches (45 x 35 x 20 cm) including handles and wheels.
IF I CAN DO THIS  THIS  SO CAN YOU.
PS – SPIRIT WAS NOT ALL THAT BAD!  VEGAS !!! FOR 75$ RT ]
I thought the price tag for $75 Round Trip  was a scam, this included all taxes and other fees. I  searched the web and found out how spirit makes their real money, its done by Hidden Fees and other charges that people do not realize when they book on Orbitz, kayak, or some other online venue. Those that don't pay attention to the fine print via https://www.spirit.com/ will be burned BIG.
My deal – RT flight  @ 75$ is cheap enough to try and gamble my time, the cost was $400 less than any other airlines. I was aware of the trouble that everyone claimed I might encounter and the fact that Spirit was supposedly the worst airline in the world. I was up for the challenge !
THE FACTS WHEN FLYING Spirit Air
Seats are SMALL – if you're over 6ft beware!
(compare it to riding in the back of a Volkswagen Golf, Honda Civic hatchback, Honda Fit )
The Seats do not recline
Leg room is minimal at best
At 5ft 11in I was a half inch from touching seat in front of me. However, for a 3 hr 20 min flight I could deal with it.
Free Personal item = equal VERY small pack
SMALL backpacks, tote bags, Small Laptop bags – ONLY.  – if does not fit in the baggage sizer it will cost  100$ extra 
Drinks & food COST money, no free peanuts  – $3 per drink (They only take credit cards no cash)
Do not expect anything extra at all 
HOW I BEAT THEM AT THEIR GAME :
Tip 1 – SAVE MONEY AND BUY YOUR TICKET AT THE AIRPORT –

 For the real penny pinch'ers you can save $30 /15$ each way by going to airport and booking your flight the old school at the counter way of doing it. Spirit charges a "Passenger Usage Fee" roughly 15$ each way. That is how they can get away with some of their other tactics to up charge the price. If you drive to the airport and book your flight, you can save almost 30$  on each ticket.
My buddies did a dive around method, switching up driving every 15min, one guy gets out other drives, switched with driver, then once ticket was in hand, they called and got picked back up. We did several rounds around the airport loop while one of use was booking at the counter to pay… drive,  switch driver, book flight, pay, drive,  switch driver, book flight, pay.
 Challenge 2: Beat the Spirit Web Site  – by not being tricked into buying extra add on's
I did not join the 9$ dollar club or $59 dollar club, they temp you with a yearly club fee.
Ensure you clicked standard fare for each leg of the trip. ( $9 Dollar club is recurring fee each year, and you gain minimal savings from what I could tell.
When booking on spirit – you must scroll to the bottom of each page and click NO to  the many pop-ups, or hitting the X  saying no thanks to their add on's.   Make sure you are only purchasing the standard ticket, because spirit attempts to incorporate comedy shows, rental cars and hotel rooms as ad on's.
DO NOT reserve seats in advance unless you want to PAY more. Let spirit airlines website auto pick a seat at random to save money.
Core items:
Standard Fare only
Do not Reserve Seats in Advance
NO carry on
No check in bags Ensure you have checked the box  that is just air fare alone, no checked in luggage, and no carry on bag with the standard fare.
Challenge 3:

Finding the correct bag size that meets the FREE personal item

It was hard to find a bag, this was the most difficult part of the trip.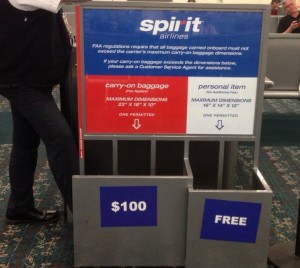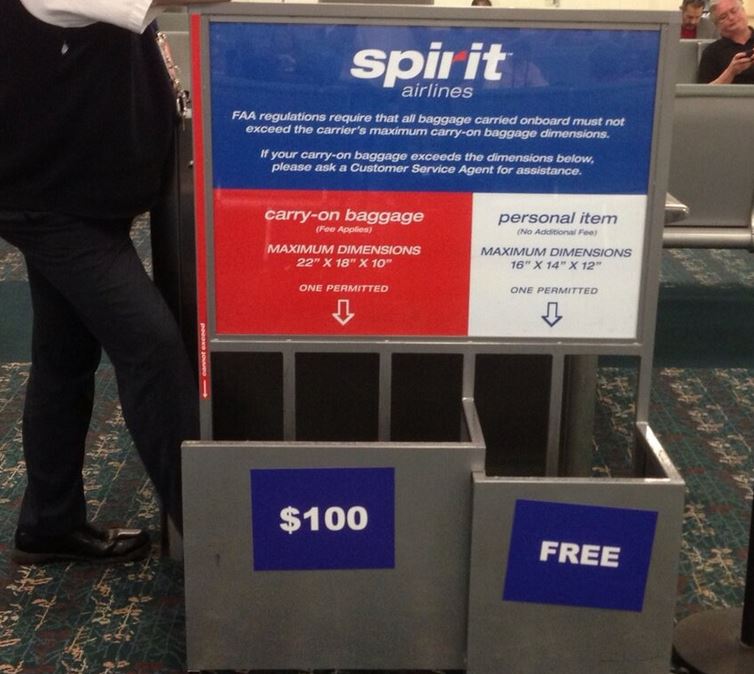 (https://customersupport.spirit.com/hc/en-us/articles/202096476-What-are-the-size-and-weight-limits-for-bags-)
Personal item (e.g., purse, small backpack, etc.): Dimensions must not exceed 16 x 14 x 12 inches (40 x 35 x 30 cm) including handles and wheels. For travel after 3/31/2016, dimensions must not exceed 17 x 13 x 8 inches (43 x 33 x 20 cm) including handles and wheels.

For Travel April 4, 2017 & Beyond:

Personal item (e.g., purse, small backpack, etc.): Dimensions must not exceed 18 x 14 x 8 inches (45 x 35 x 20 cm) including handles and wheels.
spirit Air Free Bag Size
Spirit Air must have known that finding the correct bag would be a somewhat mythical search. I could not find anything with \ product dimensions in my regular retail local brick and mortar stores, even 15 inch laptop bags are generally 20 inches in length.
Thanks to the local Good-Will thrift Store I found the perfect tote bag in the bulk baggage bin. I ended taking a small tape measure with me, checking measurements while in the Goodwill store.
I ended up buying 3 bags since my buddies needed them as well and bags were only $2.99 each. The bag I bought was a cool vintage American airlines fly away tote which was the perfect size dimension for spirit airlines. I then grabbed two other similar sized bags for some buddies that were flying with me, meeting the criteria for the free Personal bag. *On the flight I saw a group of 10 guys heading to Vegas each with a bowling ball bag. The bowling ball idea was unique. They were the perfect size, large but still small enough to fit under the regulation Spirit Air fly free "personal" item  ( PIC ). The guys said they found them used at a local flea market shop for cheap .
Bags of all kinds :
At the actual Spirit airport terminal there were several people who flew free with small back backs, a lot of Jans Port brand bags, and similar small sized kids back packs that were able to fit in the box without issue.  The Spirit staff did not care as long as could fit in the box sizer.
One guy used two belts similar to how people carried school books in olden times to ensure his bag was small enough to fit. (He noted that he had  2 extra belts for his trip when not being used on a bag. There was another lady who  used a bungee cord to ensure the backpack was able to fit the box without issue. I saw two other younger guys whom had target range bags for a shooting sports, and another guy had a deep soft sided tool bag that was made by dewalt. The styles and types of bags for us thrifty folk was kind of humorous to watch. Almost as good as the people watching at the airport. (Update: On a recent flight I saw a group of students with soft sided beer coolers bags that fit perftcly and they told me they made the purchase at Target. I give an A+ for being creative .
The winner of the small bag campaign was a guy whose wife created a handmade canvas bag to the exact dimensions for the free personal carry on, the handle was made from belt buckle with it as an integrated latch.
What does not fly free — MOST EVERYTHING ELSE DOES NOT FLY FREE!

Wheeled totes – be warned – I  DON'T EVENT TRY IT IF IT HAS WHEELS – if the wheel sticks out a half of an inch – you are toast. I have seen people  pry and hammer off the wheels on their bags with their shoes..

Even if your tote fits within the small free bag sizer, you may get an extra shake down due to the wheels. The Spirit terminal near me seems to be more stingy on what is allowed on for free. I saw a guy pay $100 extra at the gate for having his wheels stick out just a smidgen, and he could not get them off! 
Story – The bag and the busted! A group of girls on the return leg of my trip had mid size gym bags. They were stopped  by a spirit gate agent attendant when boarding the plane asked to put it in the bag sizer, each girl had a similar size bag, and each was told they were going to be charged $100 per bag. The girls argued, being obviously  upset. Their words turned into something you would get your mouth washed out with soap for,  and they loudly vocalizing that Spirit airline was a criminal airline…. etc… These girls were nearly in tears 🙁 from the extra $100 charges that each had to pay.  
  For the most part the only mad people were the ones that did not know what they were getting into beforehand, having bought their tickets online via Orbitz or other retailer unknowingly .  They did not know to do research personal bags and how Spirit works before buying their tickets.
Another group was a family that had bought their tickets online. They also got a double "whammy" for the mom and daughter having purses. The purses counted as personal items. The moral of the story is to cram your purse into your bag, making sure it fits in the sizer.

If you read the fine print and do not assume any bag will work, you're good !
The BAG SIZER is your friend — go before hand to the airport and test your bag.
Babies, Children, Kids 

Spirit airlines flying with kids /babies – 

I was watching the other families, trying to see what tips I could gain  since I may fly spirit airlines with may own family in the future.

Kids over 2 years old have to have their own seat, no exceptions.  A mom seated next to me with her little one's noted that her family always paid to have one check in that went under the plane. In the "big" suitcase they put the whole families clothing and other items. They then stuffed the rest in their personal carry on bags.

FOOD – The Mom seated next to me had all  kinds of goodies and snacks for her 5yr old. This lady was a Spirit airlines veteran and knew all the ins and outs. When we started to down she was taking off two layers of outerwear, a thick coat and then a thin jacket, same as the kid. She then moved over and unzipped a inner pocket pulling out some small toys and more snacks. She had granola bars and a tablet tucked away in her jacket for movies. For a kid they would never know how cramped Spirit seating actually is.

Pockets.  A lot of people on the flight wore coats, having their pockets stuffed with phone chargers, ipods, and other random items, tooth brush, hair bush…..etc … all to save that coveted FREE bag space.

Guidelines Per the Spirit website about kids


Only one lap child is allowed per customer
An infant, age 7 days or less or an infant requiring an incubator or other life-support system, cannot be accepted for travel and will be denied boarding.
Lap children and children in car seats are not allowed to be in the emergency exit rows or in the row in front or behind the emergency exit row.
Lap children are not be permitted to occupy a seat equipped with an inflatable seat belt.
On some aircraft, lap children may not be seated in the first or second row.
Taxes and fees may apply for the infant, depending on destination.
You can add a lap child while booking online or through our other reservation channels.

PER A MOM on Urban Traveler –

I love flying sprit! I've flow them 6 times this year with DS (BWI to Dallas nonstop) , he flys as a lap baby so I can't answer all your questions. Buy your bags when you buy your tickets – they will check your car seat for free so you don't need to pay for it like your bags. I ordered a bag on amazon to protect / keep ours clean.Families with small children are invited to board with zone 2. Pack your own snacks & plan to purchase drinks at the airport once you get through security. I fly with a stroller that I gate check (also for free) If you arrive early to check in they will seat one of you with your toddler no problem if you all want to sit together you will need to buy the seats.

The rows are narrower and the seats don't recline so I imagine a carseat install with a large seat could be tricky – I've seen lots of people using the cares harness.

Like I said I've done 6 round trips in 2013 and the planes have been new and the staff seem kind. I'll take spirit over American for the money I save which is considerable (my other no stop option) any day!

My own bag looked something like the one below: it was perfect and had enough room for two pairs of shorts, two pants, three shirts..etc. The extra pockets were useful as well.

If you have flown and used a bag please post the bag and  brand / model in the comments.
 Check IN – PRO TIP  – To get around Spirit's website and print out your boarding pass, you can click this link: https://www.spirit.com/OnlineCheckin24LoginOrContinue.aspx  — > Go to reservation and log in. Next change web address to https://www.spirit.com/ReservationSummary.aspx –> print your boarding pass. Please call us at 1-800-243-2724 if you need any assistance.
Site for some good funnies about how bad spirit is: http://www.awesomelyluvvie.com/2014/09/spirit-airlines-worst.html
Side story:   My First issu!! My NAME IS WRONG ON THE ONLINE TICKET!!
My boarding date was coming close. I wen to the website and then notice it showed my last NAME as my first, and the names were in the the wrong spot. My purchase confirmation was weeks ago.   My first thought was that Spirit Airlines was going to charge me the standard 100$ or worse a whole new flight fee. Scared of what is to come due to my typo,  I was forced to call spirit,  expecting a large fee. However, to my surprise after a few auto voice customer service entries I talked to a live person. The spirit airlines service rep was nice, and had my Last Name issue mix up resolved  in 10 Min. all completed for FREE !  Now when I open the manage my travel at spirit airlines it reflects the correct info.
 Spirit Airlines Support –  1-801-401-222
Its a no thrills greyhound bus with wings. Small cramped, but works for getting from point A to point B,  as long as you PACK SUPER LIGHTWEIGHT. If you can deal with packing light, bringing your own cereal bars, and expecting a 2 to 4 hour delay,  you can fly for really CHEAP! I would fly it again without issue, round trip from KC to Vegas for only $74.18 ////yes//// that was the price Round Trip: $74.18.
I flew with 3 friends whom also flew as well without issue, and we all said we would do it again..
My opinion of Spirit airlines: It works for point A to point B travel

 WOULD DO IT AGAIN?
YES 100%

Tips:
PACK LIGHT, TAKE THE FLIGHT!
Go into the flight mindset that you should be expecting delays.
Flight note: Our flight was delayed for the first leg 2 hours, and the  flight on the way back was delayed 2 hours However, I was expecting these delays and it was a none issue. I knew it was part of the deal when flying spirit and getting the super cheap rates.  On another flight the delay was long enough on the tarmac that we were giving FREE waters and FREE pretzels , which I guess never happens with Spirit. The spirit employees thought it was going to take 4 to 5 hours to get off the ground due to a weather issue and a number of other flight delays. To our benefit a lot of traffic got diverted and everything straitened out in under 2 hours, and everyone was happy drinking free waters and snacking.  FREE is the most rare event when flying spirit.
Update : 5 more flights with Spirit Air  — Zero issues.
 Spirit Air is not so bad once you understand the rules. 
share with friends